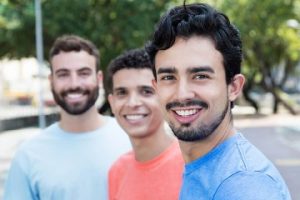 In St. Paul, MN, The Anthony House is proud to offer three different sober living home opportunities for our residents. These opportunities include the Anthony House, Jake's Place and Michael's Place. Michael's Place is known for being a safe, comfortable and affordable sober living house for men in St. Paul who are striving to live a life drug and alcohol free.
Sober Living Room Options
At Michael's place, we have both single and shared room options available. With three single rooms, one multi-room and two shared rooms, our residents are able to be in a comfortable, clean setting while they learn and build on their sober, drug free lives. Michael's Place also has a total of 3 ½ bathrooms and each room comes furnished with a bed, dresser and hanging area for your clothes. Should issues arise, our on-site manager is available throughout the resident's stay.
Michael's Place Amenities
Situated on a beautiful lot with a large backyard and lots of options to walk, Michael's Place is the perfect home to provide structure while also giving a little bit of comfort and freedom to our residents. Michael's Place comes fully furnished with refrigerators, ample amount of dry storage, laundry facilities, cable TV, internet and a local phone. The kitchen is fully stocked with pots, pans, plates and anything else our residents may need to be successful.
Male Sober Living In St Paul
Each resident at Michael's Place will be given a certain amount of responsibilities with the home. This helps our residents through the rehabilitation process and sets our residents up for success in terms of maintaining responsibilities. We also expect our residents to participate in regular AA/NA meetings and have/be a sponsor. They will attend a weekly house meeting and get to truly experience fellowship with like-minded professionals that flourish in the community and spiritual principles of AA.
At The Anthony House, we believe that everyone flies the nest at different times. For this reason, no one at Michael's Place has a forced exit date. We want to create an environment that combines both long-term recovery support with high quality amenities so that our residents are confident in their decision to continue their journey outside of our walls. For more information about Michael's Place and our services here at The Anthony House, give us a call today. Contact our Housing Director, Dan Maher, today at (651) 334-2395.