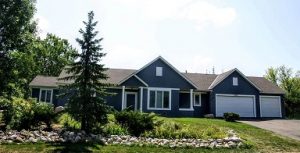 Are you looking to live a sober lifestyle now and in the future, but could use some extra support to help you achieve that goal? Learning how to properly use what you learned in treatment and applying it to everyday life can be more difficult than some may think. If you are looking for support and additional resources, our team at The Anthony House is here to help. We are proud to offer four sober living homes around St. Paul, MN, where men from all backgrounds live with the same common goal in mind of achieving sobriety for the long haul.
The Support You've Been Missing
While living at one of our sober homes, you'll gain access to the support and resources that you truly have been missing. In addition to providing you with a safe and sober living environment, you'll be able to take advantage of nearby AA meetings, potential employment opportunities and sponsors. Additionally, you'll be living with other men that have the same sobriety goals as yourself. During your stay you will be given the chance to develop friendships that could last a lifetime. There's no better accountability than those other men around you who also want to live drug and alcohol free.
Men's Sober Homes in St Paul, Minnesota
Regardless of which sober home you choose to live in, we are confident that you'll be totally satisfied with your stay. All three of these homes provide a caring environment where you can learn to use the tools that you gained during treatment and other meetings. To ensure that you are committed to living a sober lifestyle, all of our sober homes require a $425 sober deposit, which is refundable with a successful six month stay and 30 day notice. The four sober living homes around St. Paul, MN that we offer include:
● Anthony House – Located in Maplewood, MN, this sober home has a large lot with a backyard pond! With beautiful outdoor surroundings, you may find yourself enjoying a daily walk around the property. This home has 4 rooms that can be shared as well as 3 single rooms, which are all furnished.
● Jake's Place – Based in St. Paul, MN, Jake's Place sits on a double corner lot that is just a 6 minute bus ride from downtown St. Paul. Choose from our single, double or even three person room based on your budget.
● Michael' Place – An additional sober home that we offer in St. Paul, Michael's Place is a wonderful home that has beautiful views, a large backyard and plenty of places to walk. Our residents can choose from a single, double or multi-person room arrangement.
What sets apart The Anthony House from other sober living options in the area is that we don't put a timeframe on your stay. Our staff understands that we all adapt back to regular life at a different pace and we want you to truly transition with 100% confidence. If you are looking to learn more about any of our sober homes around St. Paul, MN, give us a call today at (651) 334-2395.