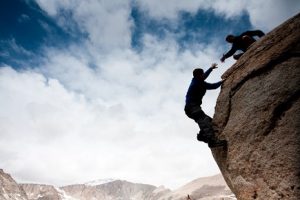 Life is more complicated now than it has ever been. We rely on electronic devices to keep us in contact with friends, relatives, and our jobs, and they often create internal conflict because the contact often does not feel genuine. Life is further complicated by the fact that we are often bombarded by distressing and depressing news that comes at us locally, regionally, nationally, and internationally. If you are someone who, in addition to those and other complications, is struggling with addiction to alcohol or other drugs, life's complications can feel more intense by a factor of ten. But there is hope. The Anthony House is both a resource for men who are struggling with substance issues and a source of hope and connection.
Make Progress Toward Your Goal Of Sobriety
Very often men who are struggling with substance issues find that their progress is hindered by a lack of hope and a sense of despair. To make some progress and then to hit a rough patch is not uncommon when struggling with substances like alcohol or drugs. The result can be a backward slide toward increased use of substances. This is often accompanied by guilt and shame, which deepens the issues that caused the substance abuse in the first place. The backward slide then becomes a vicious cycle.
The Anthony House provides not just hope, but reason for sustained hope and connection with others who understand exactly what you are going through. Our philosophy is based on the necessity of taking personal responsibility, but to do that you must have more of what our sober living community provides–connections with other men who understand the struggles of substance issues, time to reflect and gain greater understanding, and opportunities to build on the personality that is so important to regaining control of your life.
Minnesota Sober Living Community
The Anthony House itself provides a physical environment that encourages those developments. Our facility encourages you to feel comfortable, relaxed, and energized to do the work of building self-esteem and personal responsibility. The Anthony House rests on a beautiful patch of rustic land that is quintessential Minnesota. Our residents often spend time walking and exercising outside. The facility is a good place that helps our residents disconnect from the complications of life, while developing connections with other residents who understand and often provide insights that lead to greater self-awareness.
The Anthony House cannot do much about life's larger complications, but we can help you learn to deal with them more effectively. If you are experiencing issues with substances, we can help you. Call us at 651-334-2395 to learn more about our unique sober living community.