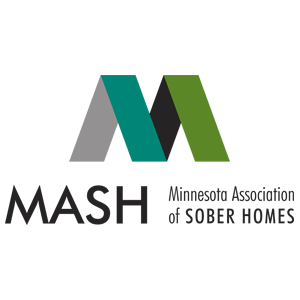 It's that moment you leave rehab. Freedom. Choices. Responsibility. Temptations. It's a realization that sober living is going to be hard without proper support. At The Anthony House, we are here for you. We are a sober living house that acts as a community to help you focus on living your life without the use of drugs and alcohol. We do this by developing relationships with each other that have the potential to last a lifetime. As we grow, learn and support each other, we utilize MASH, the Minnesota Association of Sober Homes, as a guide to help promote high quality community based sober living within our own home here at The Anthony House.
What is MASH?
The Minnesota Association of Sober Homes, MASH, was formed in the summer of 2007. It was created to offer a voice for sober houses when a public voice was needed. We are proud members of MASH and follow their standards so that our residents are assuredly provided with the proper home and opportunities for a sober living community. Standards of safety, health and house management holds our sober home accountable in the benefit for our residents. Additionally, we operate the Anthony House on a code of ethics created by MASH that all homeowners and staff agree to.
Accountability
At The Anthony House, we strive to go above and beyond to adhere and exceed all of Mash's standards. However, our residents can always take comfort in knowing that there will always be a form of accountability for our sober living house. As members, residents always have a voice. If there are ever any complaints, MASH is a resource that will listen, investigate and respond.
Membership Benefits
Not only does The Anthony House and its residents benefit from the standards that MASH has provided, we also gain access to the years of experience and know-how that many contributors have provided. Participation and meetings with like-minded individuals, inspiration and new ideas, and even an annual peer-oriented, training and education conference are just some of the many things that MASH is able to provide. Networking with the Halfway House and Recovery Home field for opportunities within our community should also not be understated.
For more information about The Anthony House and our sober living standards we adhere to through MASH, give us a call today. To learn more about our space, feel free to reach out to our own housing director, Dan Maher, at (651) 334-2395.